December 24, 2020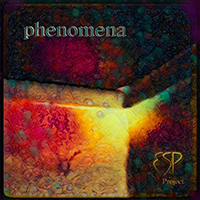 The soft reflections of the First Flight vocal part, entwined with sparkling ribbons of melodic charm, begins the musical narration of the ESP Project - Phenomena album, bringing the artistic echoes of instrumental solos to the sound of the instrumental part, exalting the triumph of musical inspiration. Slightly accelerating the tempo, but holding it back within the framework of ballad romanticism, the Before Saturn Turned Away brings keyboard passages to the forefront of the musical image, combining them with lyric vocal phrases.
The Telethesia vocals are woven into a mesmerizing dance with symphonic musical coverings, then adding epic motives with a guitar chime. Artistic musical variations give a thrilling musical stream to the Fear Of Flying main motive, topped with emotional vocal exclamations of choruses and romantic narration of verses. Instrumental passages weave a gripping symphony of keyboard solos into the Living In The Sunrise intro, then guitar riffs infuse rhythmic drive, crowning vocal reflections and enveloping the mysterious background of keyboard variations.
The Sleeping Giants vocal part seems to be telling a fairy tale, entwined with sparkling ribbons of musical artistry. Instrumental bridges intensify the atmosphere of mystical mystery even more. The Seven Billion Tiny Sparks album's final track embodies all the musical characteristics of the album, completing it with a symphonic saga with a quivering pensive vocal sensibility.