August 02, 2018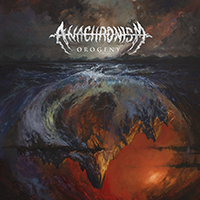 Playfully juggling with bright melodic passages, guitars are artistically intertwined in the lace of progressive motifs, the Anthropocene vocals complement the emotional color of the beginning of the composition. In instrumental bridges, the progressive component comes to the forefront of the musical image, setting the complex and vivid sound of the Anachronism - Orogeny album. In the final part, music and vocal add a romantic atmosphere, then the rhythm is incredibly complicated, enveloped in a certain tinge of the depressive guitar solos and instrumental passages.
Keeping the melody of dark romanticism Cryptobiosis begins the rhythmic structure with a furious drive, then combining the gloomy prophecies of a musical fog with explosions of a furious drive. In instrumental bridges, guitar solos bring an atmosphere of romantic sadness, peppering the spirit of ancient legends.
Pumping the atmosphere of a gloomy fog, dark artistry envelops the introduction of Aware Of This Descent impenetrable haze, then rising in dark predictions and gloomy premonitions. The final part sounds like a proud hymn, meaningfully and majestically announcing the coming battles.
Unclear fog and mysterious melodies are floating around the vocal phrases of the title track Orogeny, combining in the haze of a romantic atmosphere, supplementing emotional reflections with vortices of dark guitar impulses and obscure melodic constructions.
Crying, the sound of howling wind and a distant thunderstorm against the backdrop of Hidden Relief pensive confession, predicting future trials, dangers and disasters. Rolling over with a dense wave of severe drive Neurodegeneration rolls over the walls of dark premonitions, preserving the atmosphere of an intimidating march in an incredibly complex progressive transformation enveloping the laces of musical ideas and the wortex of instrumental motifs. Cursed Be The Senses continues the stylistics of the sound, complementing the dark atmosphere with notes of nervousness, raising bright passages of the guitar solo and dispelling caution with splashes of violent instrumental bridges.
The vocal scream anticipates the pulsing of Perfect Asymmetry artistic passages, which, as if directing their vocal phrases by their instructions, are shaking from side to side in instrumental bends, like staggering on a leisurely path.
The stern and stubborn pressure of the Endotherm procession, wrapped in eddies of instrumental passages, is guided along the chosen path, it is difficult to vary its musical ideas, not allowing the vocal to influence the instrumental saga, delightful in its progressive ingenuity.
Ambient and restrained instrumental track 11'034 completes the album, mysteriously re-calling with obscure notes with a stinging distant flickering musical background.