June 15, 2019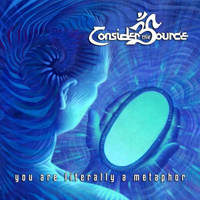 Softly and fascinatingly, Sketches From A Blind Man begins the Consider The Source - You Are Literally A Metaphor album, shrouding in a haze of thoughtfulness, with a romantic mist and creating a fascinating intrigue of the further development of musical artwork. The acoustic chime of the guitar strings ends with a bass guitar solo in the The One Who Knocks intro, preserving the style of Mediterranean folklore, as if a wandering bard completed his travels for a while and sat down in a seaside tavern, embodying his impressions in a musical narration.
Hasty melodies embody already the spirit of Oriental motifs, hurrying to escape from the cave-storm and intolerable heat. But then the Unfulfilled And Alienated composition diversifies the rhythm, introducing more and more variations to the instrumental melody.
The soft and thoughtful ballad It Is Known fascinates the mind, piercing it with cosmic rays. But then the music is again transformed, complementing the cosmic wanderings with echoes of the familiar and native lands. But after a brief pause, the composition is transformed, soaring in the whirlwinds of impetuous drive, progressively and fascinatingly combining such diverse rhythmic solutions and delights of instrumental passages.
And again, eastern folklore motifs swell spicy winds, bringing the winds of heat and desert. But this time the They Call Him The Smiling Assassin composition goes without haste, sounding ponderous and thoughtful.
The mysterious musical sacrament of the Misinterpretive Dance track hovers around with obscure ghosts, weaving enchanting laces and seductive images in a twilight haze. Again returning to Eastern folklore You Won A Goat! turns to the original Jewish tunes, dancing a mysterious dance and complementing them with certain influences of gypsy romances. Experiments with folklore trends completes the soft and peaceful romance When You've Loved And Lost Like Frankie Has, enveloping the atmosphere of incredible calm and timeless reverie. The album is completed with the Enemies Of Magick composition that appears as a separate musical artwork in the final of the album - so many variations of epic motifs and the trends of medieval fairy tales and ancient legends are embodied in musical variations.