May 30, 2017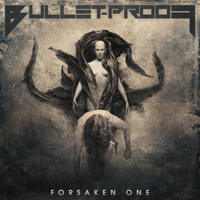 In various and polysemantic shades, Bullet-Proof - Forsaken One confession takes place as well!
Hard, sharp and fiercely Might Makes Right begins the album, twisted in the frantic drive in verses and concentrating on the title repeating in the choruses.
After so epic and symphonic beginning, combining charges and camps noise with the heartbeat, title track Forsaken One continues the harsh and tough sounding, combining the hard, rhythmic and powerful ballad with fast and frenzied driving rushes.
Portrait Of The Faceless King сombines hard, rhythmic and powerful ballad with fast and frenzied tough drive! Varied impressions - can enjoy both glamorous vanilla ladies and tough, harsh brutal bearded bikers.
The No One Ever main motif wags, grabbing vocal phrases, whirling them in dance with viscous fascinating guitar breaks. In the instrumental part, soft guitar fingerштп conceives so emotional ballad idea, guitars creates imaginary and melodic solo, appealing to the depth of sensory impulses. Tough blowing rhythm submits the furious rush, that signs the dense and harsh final.
From the introduction, the main motive paves its way as the I Was Wrong leitmotif, the vocals enrage their narratives, hardening the sound, making it more harsh and tough during the verse. But in the chorus he discards his hardness armor, giving tribute to emotions.
Abandon passes in a vigorous, powerful and persistent manner - energy is radiating in a furious and swift stream of chopping phrases, closing the tacts and parts with ornate guitar breaks.
Impressive and fascinating guitar riffs envelops in the fog of mysterious Lust, vocal phrases burst from this impenetrable gloom like bright flashes. These contrasts, the disputes of vocal turns in bridges and choruses and adorable exquisite guitar ideas have combined in so bright sparkling ...awesome musical image!
The introduction envelops with harsh rhythmic blows, howling of sirens and police cars, then Revolution rushes in a quick galloping rhythm to the coming changes.
Intro sounds as soft, melodic and dreamy ballad, next Little Boy flares up with rapid rushing break, then again returning to a soft and thoughtful sound. In these changes between the different parties, leaning towards the emotional ballad in the choruses and instrumental part, the album ends.