February 08, 2019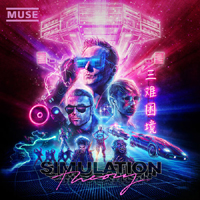 The futuristic echoes of the ancient sacraments pulsate in an obscure veil and soar the Algorithm main motive, then the romantic motifs add intriguing thoughts and fascinating doubts to the beginning of the Muse - Simulation Theory (Deluxe Edition) album. The Dark Side retains the romantic haze, but the vocals add to the sound an incredible whirlwind of emotions, elevating them to an incredible level in the chorus.
The pulsating Pressure motif intertwines with clapping hands and returns the trend of the 70s style with blues and gloomy trends of restrained impulses to freedom and will.
Propaganda intro builds up pressure on the mind, in a verse, vocals create muffled aspirations to oppose, hold back the pressure of the existing order and break the shackles that constrain the freedom of thought. The intro's pressure returns to the instrumental bridges.
The gloomy playfulness pulses with the heartbeat of the musical organism, the Break It To Me vocals in the verse leans towards the recitative and ascends with a romantic chant in the chorus.
The inspired Something Human saga conveys the influences of British folklore, then the main motive hops around vocal phrase. Thought Contagion continues this stylistics, but transfers vocal experiences to more gloomy open spaces, being excluded from inspiration in alarm and experiences.
A verse filled with foreboding and feelings is preceded by an introduction with the tunes of an invisible fairy. In the bridge before the chorus, vocal embodies readiness, calling for Get Up and Fight with all problems in the chorus.
Cosmic currents bring the electronic sparks of the entry, forcing pulsating electronic pulses of the verse. The vocals bring emotions and feelings to the forefront of the musical image in the Blockades chorus.
Dark doubts of Dig Down pensive ballad interweaves the trends of ancient legends together with the futuristic pulsation of electronic impulses and the trends of cosmic currents.
Mysterious The Void romance, full of pensive sadness, intrigues in the introduction with vocal experiences, then enveloping the phrases with covers of symphonic charm. But the final part of the composition, completing the main part of the album brings some insights to the drive.
This is followed by alternative versions of the compositions presented on the album Algorithm (Alternate Reality Version), The Dark Side (Alternate Reality Version), Propaganda (Acoustic Version), Something Human (Acoustic Version), Dig Down (Acoustic Gospel Version), expanding the stylistic framework and genre shades of the album.