June 11, 2018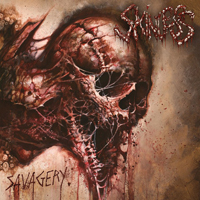 The title track starts the Skinless - Savagery album with bellicose promises of violent reprisals, after brief cries and insults a dark cocoon of visceral cruelty confidently and stubbornly weaving together several vocal parts, alternating harsh and several shades of growling. In the instrumental part, a guitar solo brings a bit of thoughtful melody.
Recollecting the mysterious outlines of ancient legends and combining epic tales with a viscous, powerful and traction drive, the Siege Engine vocals bogs down and tends to free itself, which he succeeds in a fast-moving musical bridge, supplementing the growling with vortices of screaming. However, from time to time phrases return to epic reflections. A dusky fog gently envelops obscure ghosts in the Skull Session introduction, then rhythmically pounding the hard waves of the rhythmic march rolls through the dark wave of drive, slowly unrolling its narrative. But the dark waves are rolling along the paved road slightly increasing the rate of severe drive. But among the terrible fears, awesome prophecies and eerie legends Reversal of Fortune envelops with romantic charm, like an ancient church preserving holiness among the cemetery horror. But short-lived was the charm of Romanticism - pulsating waves of drive rolls off another batch of horror, complementing the Exacting Revenge growling vocals with the screeching notes of screaming. In this musical image, the harsh power invariably dominates the swiftness, completing the growing tempo with restrained and in-depth meditations.
The impenetrable fog at all harbors all conjectures, enveloping in gloomy twilight and obscure images, then the vocals take out of this darkness an exciting Medieval dark melody guiding the sound along the chosen path.
Hardly, densely and meaningfully the Line of Dissent music covers all around, the vocals whip up the waves of drive, finishing them with meditative reflections with a pulsating rhythm on the background, juggling musical passages in instrumental bridges.
Acoustic guitar pensively reflects the doubts in the gloomy Cruel Blade of the Guillotine introduction, then taking the significance and the armor of the instrumental power the main motive develops from the melody that was pledged in the introduction.
The gloomy instrumental symphony The Hordes creates a painful atmosphere of cautious reverie, twisted around the sinister, thoughtful ancient legends, anticipating the final composition of the album, paying tribute to the legendary performers with High Rate Extinction (Bonus Track) (Crowbar cover). Preserving the style of the original composition in this interpretation, the vocal sounds more diverse and somewhat different, the music retains the so much favorite toughness and viscosity.