November 27, 2019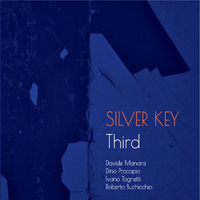 Emotional vocal phrases combining male and female vocals are shrouded in mesmerizing musical passages to begin and develops A Common Soldier composition. In the instrumental part, a melodic guitar solo comes to the fore when bombs explodes in the background and machine-gun bursts are fired. Introducing futuristic keyboard shades into the introduction, V.R. continues the Silver Key - Third album with a sophisticated romantic ballad.
The sublime piano solo gives the Ulysses intrb a bit pompous pride, and the piano is complemented by the background tunes of the cello. Then, with the introduction of vocals, the music acquires a progressive breakdown, shrouded in the trends of the epic component. The vocal begins its part with a saddened confession, exuding vibes of regret and confusion, then in the I Wish chorus, the vocals flies away raising the tone to the level of power metal. Pensive and pacifying Last Love ballad's music dissolves the accumulated anxiety and creates a soothing and encouraging atmosphere. However, a slight touch of sadness and shades of frustration remain in the vocal part.
A Rude Awakening music divides its streams into parts hovering around restless vocal phrases divided into dialogue in the form of questions and answers in the chorus. Returning to the format of an artistic ballad, the Back To The Present instrumental composition first brings the keyboard passages to the fore, then they recede in front of the enchanting guitar solo. Murder continues the musical motifs of the previous track, but complements them with a restless vocal part full of doubts.
Fierce screams in the background complement the phrases filled with fear and anxiety, but then the Endless War vocals become hardened to a restrained harsh. A muffled and thoughtful piano solo acts as a separator between the compositions, the final song The Door Shuts begins with the speaker's speeches or the sermon of the preacher, followed by a soft and inspiring musical conclusion with a touch of symphonic grandeur. And the final phrase of the album "I have no hope".