June 29, 2016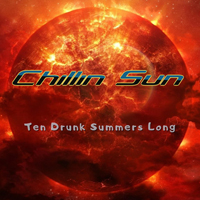 Who doesn't want to be drunken sailor early in the mourning? Chillin Sun - Ten Drunk Summers Long don't want!.
Slow, mysterious Kanowski Death March / Sometimes composition with notes of ballads and blues tinged casts doubts, attracts memories to make decisions, not giving time to recover in the current atmosphere.
Mysterious guitar, distorted by the effects begins Ten Drunk Summers Long, then tightened and flows composition, that flows like a viscous caramel sweets on a sieve, mysterious and unpredictable guitar sometimes returns its strange riffs to our attention.
Solo bass starts, then connect drums and a sharp guitar howling, that's Suicide at all! A leisurely, thoughtful examination of past days, the vocals sometimes becomes harsh.
Acoustic guitar riffs, guitar fingering carried us away in a fabulous spaces, anticipating fantastic atmosphere in the Wicked Times. Bballad, infused by this atmosphere, pierced leitmotifs thread like rapier, goes further, carrying consciousness off by its lyrical melodies.
Composition started by quiet and calm riff, then another guitar helps its development, followed by the other instruments. This riff flows as the leitmotif of the Sedantary Life, complemented by keyboards connections for a moment.
Intro brings a foretaste of something mysterious - or very attractive or wildest repulsive. Then the Swift Kick continues to open its arms to explain - attractive or repellent its contents.
Vocals immediately begins his story, spicing confession with dreamy tones in the Chillin Sun. Composition quiet, lyrical and dreamy - expectations "are now instruments will drive!" not justified 'til its end.
Led Zeppelin's cover, Kashmir difficult to describe - original composition very memorable! Those who expected harsh vocals, with change the composition to heavier sounds or the addition of other stylistic features - can leave their aspirations for later. This is just the chanting of the legends by their admirers. That's all, folks!