February 27, 2020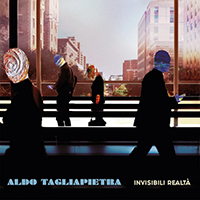 Thinking thoughtfully, full of anxieties, Musica E Parole envelops the listener with the grandeur of romantic trends and sensory experiences. then the La Porta epic saga continues the Aldo Tagliapietra - Invisibili Realta album, crowning it with a symphony of keyboard notes that give a certain elevation and shades of the majestic legends of forgotten epics.
The muffled meditations of the keyboard symphony anticipate the Siamo Del Cielo introduction of vocals, intertwined with its phrases in a mesmerizing leisurely dance. Then the flute gives shades of folklore sound, then wrapping with E La Vita bewitching lace of artistic unity of vocals and music. Entering the trends of northern folklore Radici then brings forward the vocal part on the forefront of the musical narration.
A light and unobtrusive procession of a soft and charming Il Sole Del Mattino romance disperses the gathering clouds of anxiety, breaking through them with the rays of a romantic mood. Wrapping vocal phrases around the passages of musical passages Il Bisogno Di Te embodies a bewitching sense of musical artistry, sometimes adding epic notes to the chorus.
Setting a whirlwind of emotions and experiences with musical passages of the introduction Come Onde then weaves them with vocal experiences. Instrumental symphony Invisibili Realta completes the album, enveloping the listener with the covers of artistic symphony and enchanting melody.