April 22, 2021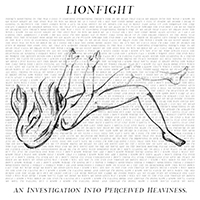 Vocal emotionality sets the direction of blurring the main motive, sometimes deviating from progressive musical artism in the instrumental bridges of the Float composition. The Neverend song continues the lionfight - An Investigation Into Perceived Heaviness album's musical tale, combining musical artistry with the twilight mystery of musical variations and combining lead vocals with muted backing vocals.
The Holy / Above keyboard symphony with a spiritual hymn of vocal inspiration sets the listening mood for the Heaviness song's sound, rolling waves of anxious drive, complemented by the progressive fracture of a complex rhythmic structure, combined in dance with romantic vocal tunes.
Dancing with rhythmic passages, the Fear / Below will revive vocals experiences on the crest of musical waves, sometimes transforming the vocals with the ascension of tonality. The Flatline song sounds like a romantic ballad with a soft chime of acoustic guitar strings. But the introduction of vocals takes the music into modernist directions, transforming the sound in the style of synth-pop, complementing the music with the artistic delights of keyboards passages. Once again transforming the genre shades of musical artwork, the Confessions (Lord help me I'm never gonna finish this assignment) composition sounds like a romantic acoustic ballad with a clear country-style influence and folk echoes. The Home song ends the album's musical narration with an inspired sound of vocal memories.