January 19, 2021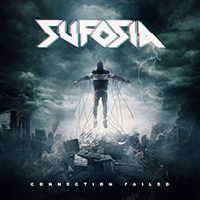 The intriguing introduction sets the tone of the sound of the In The Clouds composition, in the short vocals it brings a whirlwind of doubt, which the music lifts with the swift drive of instrumental bridges. The Final Chapter song continues the Sufosia - Connection Failed album with a similar union of restrained drive and melodic, somewhat slowing down the tempo of the music in the gloomy procession of the introduction.
By sharpening the sound and complementing the sound of the intro with a furious drum roll, the Tell Me then brings artistic mystery and progressive echoes to the vocal phrases. Returning to the echoes of traditional rock, the Rainbows complements the vocal revelations with a mesmerizing chime of guitar notes. The Saman Will Come song combines the combative swiftness of the verses with the imstic mystery of the bridges and the inspired epicness of the choruses.
Lightening the sound of music, the Gallery composition combines several voices in the vocal part and brings the artistry of musical sparkle. The Delusions takes the progressive element of musical variation to the top of the musical image, complementing this with solemn proclamations of the vocal part of the chorus. Continuing the rhythmic fracture, the Diamonds complements these captivating variations with highly distinctive vocal phrases.
Making the sound even lighter, the 1S brings into the album some echoes of popular music and romantic melody. The Connection Failed title track concludes the album with a hit combination of drive and melody.