March 17, 2020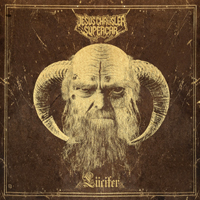 The musical power of guitar riffs pumps the harsh shaft of the Jesus Chrusler Supercar - Lucifer album's rebellious procession, rolling the title track's path of musical rebels, bringing to the forefront of the musical image the vocal narrative, while maintaining the mid-tempo marching pulsation of musical passages. Then Flesh'n'Bones continues the album with the freedom-loving dance of rock'n'role-playing rebels, twisted by a musical whirlwind on the verge between a fast-paced dance and a mid-tempo march.
Captivating the main motive with a pulsating march, Never Sleep Again brings vocal phrases to the top of the sound, complementing them with the rhythmic pulsations of instrumental bridges. But High Times For Low Crimes returns a rebellious mood, twisted in intriguing turns on the chosen musical path, Boogeyman continues the similar style of dancing music, again and again emphasizing the name.
Stubbornly and confidently walking along the chosen path of the main motive, Suck On My Balls sometimes artistically and unexpectedly varies the melodic and rhythmic component of the musical composition. Intriguing Out Of My Head intro's motives indicate some mystical shades of the musical narrative, enveloping in a mysterious atmosphere a stubborn and throbbing musical procession.
Driving and excitingly pumping the waves of the main motive From Death To Dawn stubbornly walks along the path laid by his musical passages, Straight To Hell somewhat slows down the pace, but continues the mentioned style. After a mysterious variation of the introduction, blowing the winds of lifeless prairies, You Can't Spell Diesel Without Die builds musical passages on its basis and crowns them with vocal phrases. Black Blood completes the album with a majestic procession of an inspired ballad topped with inspired banners of musical triumph.