June 09, 2022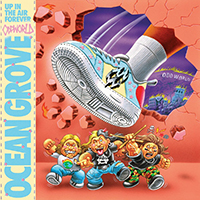 The inspirational vocal narration of the FLAVA song opens the Ocean Grove - Up In The Air Forever album with a playful and joking manner and vocal recitative. The SEX DOPE GOLD composition retains a playful atmosphere with rhythmic echoes of the battle march and thickening of the guitar drive. After an intriguing introduction, the CALI SUN song confidently and persistently moves the vocal part to the forefront of the musical image, again continuing this musical structure in the transformation of the sound into the mystery of the Broadway musical, the shades of which are embodied in the BUSTIN composition, starting immediately to control the SILVER LINING sound with the help of vocal instructions.
In the next fragment of the album, the participation of invited artists is manifested - first, a kind of romance with vocal recitative in the sound of the HMU (feat. lil aaron) track, then an energetic and inspired lively celebration and friends and comrades in the sound of the BORED (feat. Dune Rats) musical story.
The vocals calls for awakening in the NOISE intro, then reflects in the verses and again lifts up the energy in the choruses, anticipating the musical inspiration that intertwines with the SILENCE vocals in a single musical stream, combining dreaminess and recitative in the vocal part. The UP IN THE AIR FOREVER ballad ends the album with a leisurely and unhurried appeasement.