August 25, 2018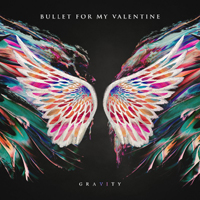 Full of emotional experiences, wrapped in meditative and emotional experiences in the muffled vocals of the couplets and the emotions in the chorus, the Leap Of Faith composition begins the Bullet For My Valentine - Gravity (Limited Deluxe Edition) album as such a peculiar ballad.
Continuing the romantic idea Over It preserves the melodic mood, but adds light waves of drive sound in the instrumental inserts and a lively chorus.
The Letting You Go song begins with thoughtful experiences and meditations of vocals that, in combination with sublime musical notes, prepare a denser composition that combines the mid-tempo elements with waves of romantic experiences.
Inspired by romanticism and sensuality, the melody continues with vocal reflections along the proposed path, combining in a single musical refreshment in the Not Dead Yet chorus, captivating to listen to such diverse types of fans.
The Very Last Time continues the romantic atmosphere of the album, beginning with sensual speeches, but then the music becomes deeper and denser, as if enveloping vocal reflections with a soft fur coat.
Those who expected fury and drive received it, but in combination with romantic phrases of pure vocals, however, Piece of Me music becomes tougher, denser and more driving.
Again in the verse romantic feelings come back, the Under Again vocals juggle with senses and emotions, but in the chorus it turns into a kind of charming symphony.
So bright, unforgettable melody, intertwining inspiration with a wave of drive, begins the title track Gravity, which continues with the vocal's reflections in the verse, returning the exciting motive of the introduction to the chorus.
Starting with muted reflections Coma uprises with majestic melody, but again shackled cautious thinking back, then the music soars on the wings of the hit bright motive in the final part.
The softer, symphonic and sensual in intro processing of the famous hit Don't Need You (2018 version) continues the album, fitting in with its romantic and spiritual atmosphere. But after joining with sensual reflections of clean vocals, an energetic drive and furious cries of harsh vocals are intertwined.
After a hundred furious and powerful stream of drive Breathe Underwater envelops an incredible calm, chanting tranquility and pacification in an acoustic ballad, complemented by orchestral symphonies.
The bonus tracks Breaking Out (Bonus), Crawling (Bonus) completes this edition of the album, the somewhat widening stylistic framework of the drive wave album takes away the tender emotions and romantic reverie that remain in them only in shades and influences. Energy and power discards obstacles on the way to the completion of the album.