December 05, 2018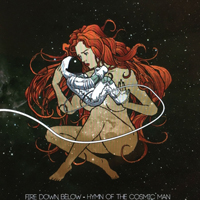 The majestic Red Giant story thoughtfully and slowly rolls the scroll of the Fire Down Below - Hymn Of The Cosmic Man concept album story, creating an instrumental entry to further compositions.
Increasing the tempo Ignition/Space Cruiser song complements the musical sound with adventure and freedom-loving rebellion, somewhat increasing the tempo in the music accompanying the vocal narration. After chorus instrumental bridge shrouds perception with a sparkling cover of significance and composition turns into a solemn anthem to cosmic wanderings. Then the brooding story of adventures in the study of distant spaces is rolled out in a brooding, leisurely mood.
Once again, music and vocals raise the banner of a freedom-loving riot, rolling a wave in a verse, but in the chorus, the vocals change the character of the sound of the Saviour Of Man composition into careful deliberation, weaving dreams together with feelings and fears.
The romantic instrumental saga begins The Cosmic Pilgrim song with an enchanting sound, enveloping its perception with charming covers of melodic trends. Then the vocal brings a note of bardic narration, telling the story of wanderings and adventures on cosmic expanses. Then the story takes the music into the background, bringing to the front brooding vocal experiences, supporting the pulsating accompanimental rhythm of the vocal concerns section. But after experiencing confidence returns and the narration of the song ends similarly to the beginning.
The acoustic ballad Nebula envelops muffled vocal phrases with guitar brute force, casting intrigue before subsequent songs. Ascension continues the album, weaving folk elements calling for the clan's memory and clan traditions with thoughtful slowness and majestic narration, not tolerating the slightest fuss. Completing the composition is an explosion of experiences, raising many impressions to the forefront of the musical image. The final composition of album Adrift In A Sea Of Stars begins with a leisurely intriguing instrumental intro, then bringing the vocal narration to the dominant position of the musical image, rolling the shaft of instrumental accompaniment in support of vocal phrases.