April 11, 2018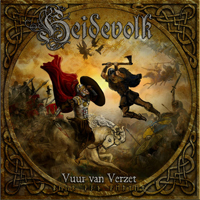 The dense, persistent Ontwaakt sound, completing the rhythm with melodious passages, begins the Heidevolk - Vuur Van Verzet album with a majestic anthem, persistently announcing the arrival of the Foggy Albion.
A mysterious A Wolf In My Heart melody, playfully developing in a dark fog, awaits a pensive vocal, leading its narrative to English lyrics - the motif captures, that's really the real hit!
The ancient sagas incarnate in so proud and majestic Onverzetbaar introduction, then from time to time rushing in the swift impulse, culminating in the repetition of the main motive.
The noise of the sea and deep meditative chorals creates Yngwaz' Zonen background for leisurely reflections, in which the leader broadcasts installations, and the choir of supporters turns them over with their support.
The alarming atmosphere in the verses rises with an enthusiastic commemoration of the coming campaigns, chanting Britannia in multiple forms and shades. The instrumental part is preceded by vocal reflections, preparing for the perception of the majestic melody in the orchestral presentation
The solemn thoughtful sounding signifies the incredible psychological pressure and importance of the concluded treaties, negotiations and The Alliance. Gloomy reflections in a thoughtful atmosphere, pure vocals lists arguments and reasons, occasionally ascending in emotional splashes. In the instrumental part, violin passages precedes and concludes the most emotional vocal break.
Dark foreboding begins the composition, repeating the name Tiwaz in combat march, followed by rapid passage will mark the completion of fees and the beginning of the campaign, turning in the symphonic ballad in the instrumental parts. The same impetuous rush, entwined with melodious vortices, which preceded the instrumental part, completes the song.
Instrumental ballad Het Oneindige Woud unites in its charming symphony acoustic guitars and orchestral arrangements, combining folklore motifs with classical majesty.
The saga of the legendary spear Gungnir starts with the solo bass guitar, then combined with a meaningful sound, filled with symphonic melodies. Vocals introduces a share of romance and speeds up the rhythm of the composition in a fast-paced narrative.
The Woedend main motive intertwining the guitar parts in a single stream of musical thought complements the thoughtful vocal passages with a bright musical canvas. Captivating with its incredible melodic ballad Het Juk Der Tijd completes the main part of the album, marvelously combining orchestral arrangements and a pensive underlying motif led by a guitar solo part.
The bonus part of the release begins songs at the evening fire Drink Op De Nacht (Bonus Track), calling for a rest after the day's worries - indulging in memories, drinking beer mugs (and not only) to the bottom. Complete the bonus part and the whole album processing song A Wolf In My Heart now as Een Wolf In Mijn Hart (Bonus Track) with the text in Dutch.