May 07, 2021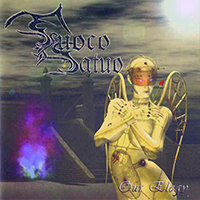 Sparkling notes of intriguing mysteriousness anticipate the Messiah song's unity of guitar rage with keyboard artistry and complex progressive rhythmic musical solutions. Vocal diversity in emotional inspiration complements the manifold of musical shades of the first Eversin - Our Elegy album's composition. Music and vocals are wangling in the fascinating dance Of Light And Dark epic saga, then complicating musical variations in artistic ascension.
The title composition Our Elegy performs the vocal narration of the storyteller to the fore, complementing it by sparkling artistry of musical variations. The guitar solo of entry sets the direction of the development of the Humana Hutopia main motive, then converting into a pulsing leisurely march, over which the bright Phoenix is asked for further guitar solo. The vocal party is manifested only in the final fragment of the musical fairy tale.
After intriguing twilight entry, the sound of the Tenebra's Dream song envelops us the mysterious haze of romantic ballad. A bright guitar solo fonds in a rapid race for the Endless Rhymes imaginary illusions, somewhat holding back musical fasting by vocal inspiration, then intertwined them in a single whirlwind of a musical stream.
The sound of the My Shadow's Fate composition progressively glows musical lace, fascinating the artistry and variety of musical variations. The Last Illusion song completes the album, combining the romantic ballad, the rapid whirlwind of the epic fairy tale and many other musical and vocal transfigations, which can be perceived as a separate musical artwork.