December 04, 2017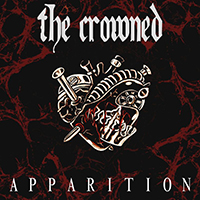 Soft, sensual, gentle Forthcoming ballad unexpectedly for the style opens the gates of the The Crowned - Apparition album, sounds like the student explains with his teacher in the piano class.
But, already God Dammit brings the usual for this musical style drive and fury, swiftly and vigorously starting, somewhat restraining the tempo with vocal parts with dominant screening. The rhythmic driving of the tempo into the train of the musical road completes the composition.
A confident, persistent drive follows the chosen path of Hate without curtailing and not doubting the direction's preeminence. Strictly, clearly, persistently - giving thought in bridges and choruses.
The pulsating introduction rolls waves of meditations and emotions into The Dead (feat. the Wolf) music, the vocal supplements these thoughts with its own shade, alternating between pure and screaming.
The Murder main motive performs already in the introduction, then in the verses the screaming dominates, in the chorus the clean vocal complements the composition with dreamy notes.
The power pulsates with a whirlwind of rolling waves of drive in Kill (feat. Corpse Queen) song, vocals reflects anger and cruelty, guitars contribute a bit of exalted experiences, imposing their riffs on other musical turns. Then the female vocals give a little bit of sensuality.
So energetic and impetuous Warfare (feat. Amanda Maddera) composition, female vocals with piercing screenging complements the main vocal part with emotional notes.
Harsh and pulsating Nobody intro is replacing by vocal movements, which brings the influence of recitative into the musical image.
Defeat the Monster continues this influence, in the verse and chorus allowing it to dominate. The instrumental part complements the music with mysticism, the guitar bust solo gives the lyric tinge of the composition. But the impulsive power returns to complete the song with a stream of drive.
Furious utterances in the verse create a severe and disturbing mood, then pure vocal blows to romantic dreams, which dominate in the instrumental part. But the power and rage complete the composition, although clean vocals gives a little touch of emotions.
The title track Apparition completes the album, in romantic music waves combining power, rage and melody, combining these musical changes with vocal variations of screaming and clean styles.