February 27, 2020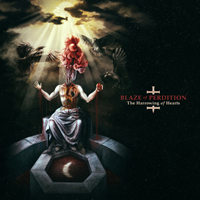 Echoing footsteps call for the introduction of the Suffering Made Bliss song, twisting the mesmerizing lace of guitar riffs, pumping waves of breathtaking melodies and inspiring drive, the chorus is built on the dialogue of a questioning muffled whisper and the answers of severe growling. A leisurely procession of mystical sacrament continues the Blaze Of Perdition - The Harrowing of Heart album, however, the introduction of vocals somewhat speeds up the With Madman's Faith music, while preserving the dark charm of the musical lace encircling the vocal narrative.
After the explosion of drive in the intro, Transmutation of Sins captivates with an incredible melody of musical sound and vocal inspiration raises banners of bright encouraging forebodings. Keeping the bewitching sound full of inspired hopes Królestwo Niebieskie changes the lyrics of the song from English to Polish, shrouded in the majestic veils of the enchanting majestic anthem.
The mid-tempo procession of the What Christ Has Kept Apart pulsating march is supplemented by vocal doubts, as if setting unsolvable tasks and puzzles, the search for the solutions to which sucks the vitality. Varying the tempo and musical structure, The Great Seducer is mesmerizing with the sound of an epic saga, sometimes exalting tales of the greatness of magic and dark spells, sometimes exploding with power and significance of the drive. A tribute to the legendary band's Moonchild (Fields of the Nephilim cover) song, rethought in the style of sounding of this artist completes the album.