January 10, 2020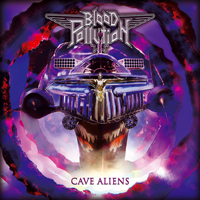 The buzz of guitar solos in the Mark of the Wicked introduction precedes the dominant role of vocal phrases that controls the development of the composition. Guitar solo reminiscent of the buzz of a motorbike motor, like a cowboy chasing his two-wheeled friend into the Motorcharged Fever adventures of the prairies, continues the Blood Pollution - Cave Aliens album.
Rock'n'role-playing fun Cracked Hole Boogie continues the sound of the album, transforming into Rock n Roll Bitchtrap spicy whirlwinds from the prairies, bearing echoes of adventure and trials that test honor and courage. Once again, the Rushing Hours energetic drive rushes in a rapid stream, twisted by vortexes of musical passages around vocal phrases.
Returning to the dance rock'n'roll fun King of Love carries away to the festival of dance, then Electric Woman enters with the bass guitars solo and continues with rhythmic beats.
Keeping the mood of the festival in the saloon, Signs of Tomorrow vocals phrases and musical passages add an atmosphere of thoughtfulness about about tomorrow's state.
The title track Cave Aliens pumps up whirlwinds of rampant drive, twisting the harsh veils around vocal thoughts. But Glory Ride closes the album with waves of unbridled inspiration, fluttering flags of readiness for any trials and events.