August 14, 2019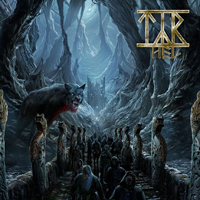 Slowly epic musical covers reveals the essence of the Gates of Hel musical composition, slowly and significantly developing the narrative of the main motive, revealing the essence of the Týr (FRO) - Hel album, starting vocal phrases with severe growling, then transforming into inspired thoughts of inspired vocals. Rapid trends of the All Heroes Fall main motive fly away with epic trends, on which the epic narration of the vocal part sits.
Withdrawing English lyrics, the tales of ancient legends envelops the listener with an inspired narrative that swirls with whirlwinds of sparkling northern legends. First, a malleable majestic anthem Ragnars kvæði, then an alternation of rapid drive and epic narration of the Garmr composition.
An epic ballad Sunset Shore shrouds in majesty and enchanting legends. The inspirational narrative of the Downhill Drunk vocals phrases brings the tales and legends. Empire of the North continues to broadcast ancient legends, at first raising the vocal narrative to the leading role, but complementing the inspired vocal phrases with the progressive grandeur of musical variations.
A whirlwind of bewitching melodism in the Far from the Worries of the World introduction twists the mysterious veils of musical lace of the composition, the vocals cry out for drive, drawing the listener into the stream of epic tales. This majestic narrative continues with the King of Time bewitching ballad, captivating with a charming narrative within the limits of ancient tales and forgotten spells and revelations.
Fairy tale inspirations crowns the changing pace of the Fire and Flame musical narrative, enchanting with an epic narrative of vocal phrases. Then Against the Gods pays tribute to the legends of heavy metal, raising the banner of greatness in the chorus and calling for the hardening of the musical canvas topped with enchanting vocals proclamations.
The guitar solo of the Songs of War intro swirls with a whirlwind of fairy sparkles and aspirations, then vocal phrases complement these charming passages with emotions and shades. Álvur kongur completes the album preserving greatness and charm, again removing English lyrics and introducing the majestic charm of northern legends.