June 21, 2022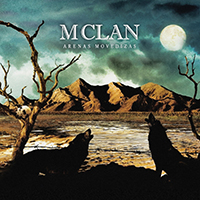 Musical inspiration is woven in a single romantic dance with vocal sensuality, revealing the music book of the M-Clan - Arenas Movedizas album with the romantic sound of the Para Decirte Adi composition. The adventurous atmosphere of the upcoming adventures brings the vocal part of the Vidas Desiertas song to the forefront of the musical image. The Escucha Mi Voz mysterious and fascinating ballad envelops vocal melodies with musical charm with notes of country style.
The rhitmic introduction anticipates the further significance of the Cuando El Camino Duela solemn march, preserving the rhythmic step of the sound of the Noche De Aullidos composition, complementing the musical passages with shades of playfulness and fascinating artistry. The vocals narrative comes to the forefront of the Ritual mesmerizing musical tale, entwined with veils of intriguing musical passages.
The twilight mystery of leisurely musical passages is combined in the romantic atmosphere of the Nadie Se Acordara De Ti (El Dia Que Llegue El Momento) ballad with vocals reflections, continuing a similar style in returning to the country style in the sound of the acoustic romanticism of the Solo El Viento song.
The Arenas Movedizas title track fascinates with the mystery of the sound with echoes of dust storms of the prairies and the melodies of cowboy bards of the wild west. The Rock & Roll Del Siglo Xxi composition completes the album with an exciting musical sound and vocals emotionality.