February 18, 2020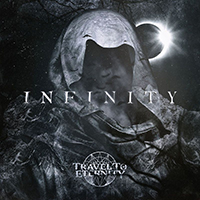 Symphonic sacrament of the Intro envelops the beginning of the Travel to Eternity - Infinity album with mystical tunes of keyboard artistry, then Ashes whirls the whirlwind of guitar solo into the introduction, complementing the rapid drive with alternating screaming and growling, raising the banners of a dreamy haze with clean vocals chants.
A swift drive pulsates in an unbridled assault, then in the Hope vocal part the clean vocals and growling are intertwined in a duet, however, the clean then clean vocals recedes, returning to the leading role in the chorus. The guitar solo of the introduction captivates with romanticism, but after a short pause, the vocals appeal to the continuation of the Became The Broken Fate musical essence in a pulsating mid-tempo march. But then, clean vocals come to the forefront of the musical image, exploding the musical limits with a swift drive, but then again returning to the rhythmic procession.
Bright melody captivates with its artistic sound, escalating mystery with the gloomy chants of growling in a verse, raising the Enemy Inside chorus with inspired tunes of clean vocals. Introducing mystery by intriguing intro motives, then the To Eternity main motif braids around the rhythmic axis of the composition and vocal part with bright ribbons of guitar solo.
The mesmerizing charm of the introduction precedes the dreamy tunes of clean vocals, shrouded in romantic covers of soft and delicate In Oblivion ballad, then introducing sharp inclusions of growling. Preserving the bewitching melody, My Fight at first returns to the swift drive entwined with the strings of a melodic guitar solo, but then again returns to the dreamy tunes of an inspired ballad. Письма completes the album with the gentle and sensual atmosphere of a romantic ballad, enveloping the tunes of clean vocals, which transformed the vocal part of Russian-language lyrics with soft veils of mesmerizing melody.