May 02, 2018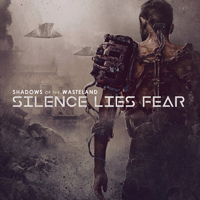 The mysterious keynote introduces the direction of the development of the Hypernova main motive, sweeping away the melodic drive waves all the obstacles on the way to the verse, in the bridge before the chorus the keyboards passages bring the trend of the main motive again, dispersing in inspiration in the chorus. Thus begins the conceptual album Silence Lies Fear - Shadows Of The Wasteland, revealing the features of the post-apocalyptic wasteland.
Symphonic motifs of the Aftermath intro are cut off by a powerful and furious drive, then alternating these flows with melodic guitar and keyboard additions, alternating growling and screaming in the vocal part.
Shores Of TimeThe keyboards scatter the sparkling notes of melodic meditation, the guitar picks up these sequins and directs their flow in an energetic drive, first removing the key notes with vocal phrases, then combining them in a single melodic image. In the chorus, female vocals with a hard screaming on the background complement the composition with sensual romance.
Pulsating electronic impulses with quiet keyboards reflect a shade of detached futurism, then a wave of hopeful drive with a foggy whisper sweeps the Artificial Engine song in an energetic stream of musical searches, twirling around vocal phrases.
Thoughtful romance is embodied in the torn verse, tearing from the shackles of an average tempo, calming in an incredibly melodic chorus that values the remaining The Last Human as the custodian of knowledge and the beginer of a new path.
Pulling notes like a rosary, praying for a successful combination of future events Gravity rolls changeable waves, exciting thinking about the future. Then the female vocals eliminate experiences, covering doubts with a sparkling canopy of bright hopes. But a swift stream of hard screaming returns to the experiences.
Asking an obscure fog enveloped by the enchanting whirlwind of melody The Shadow Of 'I' preserves melodiousness even in an energetic drive, leaving on the background keyboards of meditation, leading away vocal reflections after the rapid guitar tricks.
The soft mysterious romance alternates with a furious drive, and there and there, retaining similar features, as if combining the contrasting features of the surrounding wasteland and encouraging the successful completion of wanderings under the burning sun striving to perceive Sun As A Gift.
Combining in a single musical stream phrases of severe screaming and sensual female vocals, The Oblivion then alternates them, creating a diverse musical image, emphasizing them with symphonic keyboards.
Undying Mind completing the album combining screaming and growling vocals with a majestic melody, introducing in the verses a furious drive, in the choruses enveloping it with melodic covers.