September 19, 2020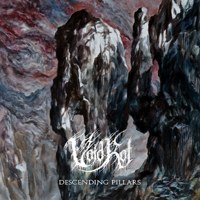 The title composition opens the gates of the Void Rot - Descending Pillars album with a mysterious mystery, giving the vocal part shades of a mysterious mysticism, accelerating the explosions of tempo with guitar solos of instrumental bridges, but again returning to the unhurried pulsations of the twilight outlines of the dark anthem. Exploding into the opening with a furious whirlwind of deadly drive, the Upheaval returns to the confines of mystical twilight with a vocal narration entwined with a canopy of a toga of musical accompaniment. But the music returns to a whirlwind of impetuosity in instrumental bridges.
An intriguing pause with a guitar hum in the introduction creates mysterious omens, but then the stream of the main motive reveals its essence, then Liminal Forms follows the path indicated by this musical decision. The musical twilight of the guitar passages creates an atmosphere of mystery around the Delusions of Flesh vocal part, slowly and solemnly marching along the path of the musical background. The Inversion continues the motives of the previous composition, giving them more severe and dense shades of sad drive.
The Weight of a Thousand Suns instrumental keyboard symphony creates a charm of melody before the final composition of the album Monolith: Descending Pillars, Pt. 2, pumping waves of a dark anthem and transforming the title track into a dilogy.