July 01, 2022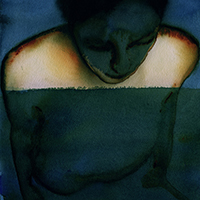 The mysterious melodies of the singing lady with the muffled tenderness of her phrases open the 23 musical gate, pointing the way for the unhurried procession of the Just Mustard - Heart Under music album. The Still and I Am You compositions continues this musical story with a leisurely procession of doubtful vocal phrases through the twilight fog.
The Seed vocals narrative of female vocals is transformed by reassuring notes with a harness of musical variations on the background. Like the pleas of Tibetan monks, the sound of the Blue Chalk composition envelops the listener with an atmosphere of inspired mystery.
After an intriguing introduction, the vocal part of the Early song raises the banners of the coming revolution, coming to the fore with proclamations full of rebelliousness and adventurism, but after similar drinking and aspirations, the Sore ballad envelops the mind with soft and gentle romantic veils.
Varying in the foreground of the musical image vocal part and instrumental variations, the Mirrors composition complements the main female vocals with background support for male vocals. Stubbornly, persistently and confidently rolling waves of the main motif, the In Shade song crowns their crests with the inspiration of muted vocal phrases. The Rivers composition completes the album, enveloping vocals reflections with shades of musical mystery.