April 27, 2022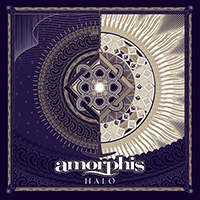 After an intriguing beginning, the Northwards composition weaves the artistic lace of the main motif, varying the vocal style from harsh growling to the dreamy ascension of clean vocals. The On The Dark Waters epic tale continues the musical narrative of the Amorphis - Halo album with echoes of Druid charms and Celtic motifs. The Moon song progressively varies the exciting sound of an artistic musical canvas and an inspired vocal narrative, continuing a similar musical style in the sound of the Windmane composition, embellishing it with the artistic charm of unsurpassed improvisations of the instrumental part.
Rolling waves of bardic songs, A New Land musical fairy tale rolls out the musical canvas before the vocal procession. The intriguing intro and unhurried development of the musical essence of the When The Gods Came saga draw you into a haze of obscure conjectures, then rewarded with vivid musical variations.
Complicating the musical passages of the Seven Roads Come Together composition in the introduction, the music and vocals are then intertwined in a mesmerizing dance of musical charm. The War anthem of valor and combat feats combines music and vocals in a single exciting musical stream.
The title track of the Halo album captivates with artistic changes and variations of the vocal part, enveloping them with sparkling musical covers and complementing the significance of the phrases of the singing lady. The Wolf composition drives the rhythmic step of assertive drive, bringing the symphonic charm of the My Name Is Night (feat. Petronella Nettermalm) final album's song, sometimes raising the charm of the vocal phrases of the singing lady to the crests of musical waves.