April 30, 2017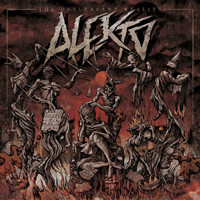 Around there are so many unexpected troubles, various adversities and baseless allegations - that Alekto - The Unpleasant Reality describes only a small fraction of similar phenomena !
Furious drive sweeps hard musical pressure to the skies, embracing everything around with pressure and power of Who Dares to Raise the Hand question, concentrated hard rhythm and ineradicable energy.
Viscously and tightly, starting in a soft and exciting melody, Let's Talk About War gives vocal support to this motif, then swings in a swift stunning snatch.
Leisurely, rolling and concentrated, marching pace at Deliberate Entropy turs into frenzied speed, creating a mind-blowing drive, sometimes driving hard musical decisions and vocal delights - but again returning to the viscous, rolling steps.
A sharp, hard, furious drive of Media's Assault envelops with the atmosphere of an angry haze, vocals begin with flowing phrases, then changes from growling to screaming in rapid rushes.
Soft, delicate, melodic guitar break begins The Masked story, turning into angry, indignant riffs accompanying and accompanying violent and indignant vocal phrases in a violent and rebellious ballad.
Starting with leisurely, concentrated phrases Gold and Blood accelerates the pace in a fast, furious rush, replacing vocal styles between growling and screamming, again and again.
Powerful, furious strikes blow up the sound of Mind Scars with furious energy, sweep the fragments of nature to unprecedented heights, transferring them to the top of the next level. In the instrumental part, these same blows are threshed with sledgehammers about an anvil of reason.
Embracing an unrestrained militant atmosphere, Immutable Silence eagerly and persistently marches with the banner of anxious anticipation, seeking to unleash his talents in a grand battle, smashing the enemy, smashing the shields of enemies and breaking through armor with sharp attacks.
Vortexes of exciting melodies entrain into uncharted spaces of Conjecture of Chaos, persistently moving forward to unprecedented sensations, throwing into the abyss of chaos and unthinkable revelations.
Squad of knights rides in an alarmed canter, trying to perform the Revenge and complete the album in a persistent, assertive and confident manner.