March 03, 2021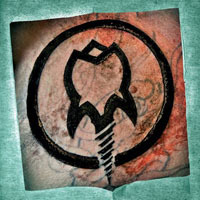 The drum roll ends with playful motifs, retreating before the unrestrained pressure of the musical drive and vocal synthesis of the Pirunpaska composition. The swing viscous and mysterious lace of guitar solo entry of the Valtiaan Uudet Vaateet song continues the musical narration of the Stam1na (Stamina (FIN)) - Nocebo album to the mystical atmosphere of twilight mysteriousness, skewing the tempo in the instrumental bridges after vocal severity, but removing the walls of the castle of progressive artistry in the chorus.
But the musical vortex of the Tavastia Palamaan! track is returned to the rock'n'roll spirit rebellion. Hurry of the Puolikas Ihminen highlights the vocal batch on the forefront of the musical image of the rapid race, while holding back it with relief and elements of popular music. But the Aivohalvaus explodes already by unrestrained rebellion with some punk-rock extensions. The music and vocals sounds more powerful and the evil of traditional representatives of the specified style.
Twilight mysteriousness is manifested by the unexpected discoveries of stylistic features in the sound of the Rabies mid-tempo track, supplemented by a duet in the vocal party. The vocal monologue sets the main element around which the axis of the main motive of the Lepositeet composition, sometimes twisted the sparkling lace from the music passages and vocal phrases. Then the vocals are boosted to the severity of the growling, retreating before a romantic guitar solo with elements of the lounge.
The Nomad continues vocal fierce, changing Finnish lyrics into English. But the Ei Encorea expands the album language scope, complementing it with an emotional groove with Spanish lyrics, continuing such linguistic experiments in the rapid drive of the Arveton On Arvoton final album's composition.