June 13, 2020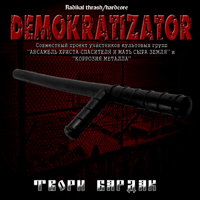 The backyard companion riots Вступление (для нужного настроя), freaks out and prepares for the Demokratizator - Твори бардак album's entry, exploding in a wave of furious drive, singing the delights of alcohol intoxication and honoring the amber of the Перегар consequences. Vocal indignation of the Алкорадикал composition calls for a violent rebellion against all foundations.
The vocal narrative of the У меня не бывает похмелья composition claims that real men do not have a hangover! Never, by no means and principle is impossible. Next Пиздись из-за баб! develops the theme of a real man, complementing this image with other shades.
Detachment from everyday life and the belief that the body is the shell of the spine creates an atmosphere of unrestrained playfulness of the Разъебем song. The drum roll sets the mood for the introduction of the Твори бардак title track, turning into a percussion solo and exploding with a furious indignation of sound, hardening the vocal part to a furious harsh, complementing it with laced phrases of clean vocals.
Well, music legends are sometimes very peculiar - the По кишкам, пиздам и хуям (АХС cover) gives an interpretation of the work of the group, the attitude to which was and will always be ambiguous. Окончание пиздеца (outro) completes the album, pacifying the anxiety of the crowd in a drunken stupor.