October 12, 2021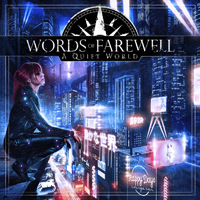 The My Share of Loneliness song begins the musical narrative of the Words Of Farewell - A Quiet World album with a progressive unity of musical contrasts in the solemn hymn, with elements of progressive rite of rhythmic pattern. After an intriguing intro, the Gaia Demise composition fonds into the atmosphere of mysteriousness and the charm of the melodic motifs of the chorus. The Gallows Frame music and vocals are intertwined in a fascinating dance, augged by the background chime of keyboards leitmotif.
After the intriguing melodic joining the Limit Cycle saga wraps leisurely vocal reflections with a sparkling ribbons of musical mysteriousness. The vocal party complements the patience of the main vocal in the chorus. The Zero Temperance complements the musical sphere of the album with bright and impressive unity of music and vocals. The artistic guitar solo of the Momentary Life intro is wrapped with a bright swirl melody and sets the direction of the march of the main motive.
The exciting sound of the Oversoul song is fascinated to follow him on the expanses of reflections and dreams. The Farthest Reach composition is rolling the awesome musical canvas, which is the banners of melodism in the chorus and enchanting the guitar solo instrumental bridges. This Shadow My Likeness completes the album with the sound of its most prolonged and diverse musical essence.