January 20, 2022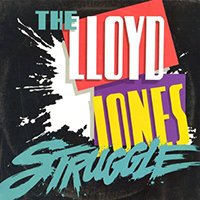 Jazz improvisations combine in the wistful lounge sound of the Live It Up first Lloyd Jones - The Lloyd Jones Struggle album's track, continuing with the insistent and persistent tuneful blues sound of the You Ought To Know Better song.
Continuing with the insistent sound, the Shake Your Money Maker song brings a certain rock'n'roll feel, continuing with the blues and reggae of the Stay Away From MY baby track.
The sound of the What Am I Living For composition brings vocal reverie to the forefront, complementing the main vocals with background chorales of ladies singing in a style approaching soul, after which the In The Open track soars in an enigmatic playfulness. The If The Washing Don't Get You song continues the same mood with the vocals emotions and blues music shades.
The harsh, drawn-out and brooding vocal reflections lend a harshness to the sound of the Locked Up In Love, returning to the playfulness of the Get Your Hat in a country-style sound. The Me And My Woman vocal march impressively, meaningfully and artistically complements the musical passages, anticipating the sound of the Talk to me Baby final composition of the album.