July 31, 2017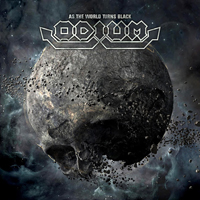 Odium (DEU) - As The World Turns Black unifies traditional, habitual in performances of many bands, sound and confident combination of many components into the seamless, unforgettable artwork. Hard, powerful and confident The End of Everything spreads waves of irresistible drive, clearly and confidently in the verses, swiftly and unrestrainedly in the choruses.
Twisted in anxiety and necessity, juggling with feelings and experiences Point of No Return affirms so obvious problem that can not hide from, not hide - just decide and rebel against it!
A sensual, romantic and charming introduction No Goodbye revives forgotten experiences, restoring lost images and paying attention to what they tried to get rid of.
In the chorus, the music sweeps in a swift whirlwind, turning the ballad into the furious revolt against the disgusting order. The pulsating solo bass of the guitar like a cane probes the way that is customary for Blind on his life journey. In ragged, changeable rhythm, his whole being pulsates.
Revolution raises the masses, the murmur of which does not fades away even after the promises of heavenly grace revered by the clergy. To know and the authorities hide behind thick walls, hoping for protection. But - changes are inevitable now.
Brightly shines Frozen World, blinds by the brilliant reflections of ice sculptures, recreated by the whims of nature. But this does not stop the rebellious masses - it's impossible to freeze burdensome routine, in no way - even singing its charms in the melodic and exciting chorus.
Again the rhythm pulsates, like the heartbeat of an invisible being, because Time Is a Killer for all living things. Irresistible, inevitable and ineradicable - because the rhythm picks up the pace to a rapid flight: to be in time, as much as possible, to try and not give up. The title track As The World Turns Black pulses in a different rhythm, twirling around the main motive with exciting waves of guitar motifs. The vocals enter into the ballad mood, emotionally projecting their own break, then rushing into persistent progress to the impetuous rush, but again returning to the rhythmic structure assigned in the introduction. Then the vocalist starts to reflect on the background of soft and gentle musical accompaniment, but again music brings thoughts back to the usual way. Powerfully, slowly and confidently enters Inside The Incubus, subordinating his music all the surrounding space. Then, with the introduction of the vocal, the music speeds up the tempo somewhat, but returns to its dominion again and again, gloriously and meaningfully completing the album.