September 17, 2021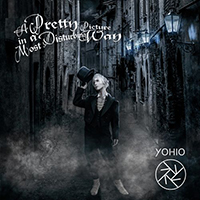 The inspired sound of the You'll Believe It (If You Sing It) song begins the musical narration of the Yohio - A Pretty Picture In A Most Disturbing Way album with fascinating unity of the main vocal with the patience. Then, in the sound of the Daydreams composition, there are some shades of alarm and spooning Broadway.
The vocal party goes to the front of the Undo track's sound, making their experiences on the attention of the public. The My Nocturnal Serenade introduces an extension of a gothic atmosphere and twilight symphony to the sound of the album. The Merry Go Round complements the atmosphere created by the previous song.
Re-changing the stylistry of sounding Defeating A Devil A Day enters with the intro's futuristic sound, then alternating them with the atmosphere of cabaret.
The vocal party comes to the forefront of the Tick Tack (Genius) musical image, subordinating the musical variations with its instructions. The Silent Rebellion somewhat unexpectedly transforms and harvester the vocal parties, expanding the stylistic framework of the album and group. The Oh My... Polkadot Politics fascinates in the ramp and unrestrained dancing. The Show Has Just Begun, So Let Them Laugh put the final point in the sound of the album.