October 29, 2016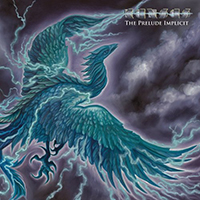 Sadness and grief are refracted, evaporate in the shade of Kansas - The Prelude Implicit (Deluxe Edition) which claims all around with its own rules.
Rhythmically, as if anxious a heartbeat of rhythm, With This Heart saturates every possible desire, combining gentle piano and violin in sublime melodies, extolling the spirit and the mind far above ordinary concerns.
Since dense and stubborn fighting intro, with the introduction of vocals thoughtfulness is added to the Visibility Zero power and fury, and girds with its wonderful keyboard passages. In the instrumental part to this charming combination adds inspiring violin etudes.
Violin create lovely blues The Unsung Heroes with its notes and motifs, blowing thoughts to follows after its words and intentions.
Viscous, tough and insistent riffs in intro of the Rhythm in the Spirit captivates all of us with its stubborn promotion, making a break for the sake of vocal phrases. Then, emotional monologue with complements by inspired piano first, and then by sublime magic violin. But, viscous and sticky riffs returns again in anticipation of another wonderful tale.
Calm guitars fingering supports the Refugee in the exile, which burdens and drains him to the limit.
Beautiful instrumental saga inspires by their sound, combining beautiful parties of violin with keyboards in a single entity. Then calm and balanced vocals joins to the winged motif, surrounded with ambient mystical glittering musical sparks. It is ... impossible to describe - everyone finds personal impressions after the listening!
Organ passage begins Camouflage which continues so restraint, but impulsively. Then the narrator shares with us his sorrow, the atmosphere of the mysterious adventures and unexpected hazards surrounding us, it always hidden from the untrained and inexperienced eyes. This sacrament exalts with symphonic explosion of the chorus.
After the sad and exciting experiences fiddle presents sultry Summer apprehension, it can't be forgotten forever and ever - competing with each other by their improvisations, guitars and keyboard interupted by violin, a wave of its passage returning vocal phrases in reign of the last chorus.
Bass guitar, pulsing rhythmically and constrained in different directions, forms the basis leitmotif zipping in a single burst through the entire outline of the Crowded Isolation composition. In the instrumental part of track the fiddle presents us with an exquisite improvisation, then the bass guitar again subjugates all!
Distant sounds of the wind and the mysterious call keyboards start so wonderful and magnificent instrumental saga Section 60that other instruments can't denide to take their part in this wonderful artwork. Next joins fiddle, then guitars - and it's abundance and sound charms creates its unique universe!
Quiet and calm ballad Home on the Range envelops all around with its atmosphere, leaving the guitar notes and the main motive, with all of the instruments that follows after the violin rush. It drags all of our attention!
Beautiful and haunting instrumental tale Oh Shenandoah ends the album with its excellent exciting sound. The last song.. well, we will listen it again and again!