June 02, 2021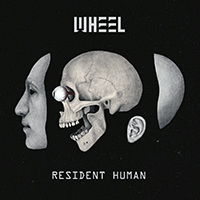 The music weaves an enchanting lace, enveloping vocal experiences with enchanting musical covers and creating a very diverse sound of the Dissipating composition, which begins the Wheel (FIN) - Resident Human album with sophisticated reflections, emphasizing the influence of the bass guitar on the development of artistic musical variations.
Broken percussion variations intertwine in a progressive dance of the Movement main motive with a guitar solo, leading to a journey through the veils of musical artistry in anticipation of vocal experiences. The disturbing atmosphere of the guitar solo of the Ascend intro recedes before the vocal phrases full of doubts and reflections, to return to the sound of the chorus.
The Hyperion epic saga intertwines vocal reflections with musical artistry in many ways and variably, captivating the listener with many shades of musical variations and the charm of progressive musical artistry. The Fugue song captivates the sound of saddened romanticism, creating a mesmerizing atmosphere of sensual experiences, shrouded in doubts and vague premonitions.
The title composition Resident Human begins with ragged whirlwinds of progressive musical variations, combining a complex rhythmic essence and then transformed by the echoes of a stern, majestic anthem. But the brooding vocals narrative pacifies the musical anxiety, leaving behind the background echoes of future experiences. The Old Earth instrumental piano solo concludes the album in an atmosphere of hazy obscurity.