January 25, 2019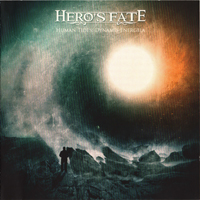 The mysterious mystery of gloomy fog envelops the beginning of the Hero's Fate (DEU) - Human Tides: Dynamis Energeia album with an obscure haze of the Intro, culminating in a harsh and stubborn Empty Crown introduction, rolling gloomy waves of sadness. In melodic bridges, guitar solos raise dreams in romantic entreaties of enchanting melodies, but the vocals once again return to their harsh, gloomy atmosphere.
The charming ballad of the guitar solo is fascinating for the The Flood Is Here intro, but after a brief pause, the music explodes in a stream of fierce drive, pumping up the tempo and shrouding significant vocal phrases in gloomy whirlwinds. In the bridge, the twilight and romance are woven together, but the couplet is again carried away in a stream of fierce drive, retreating before the majestic omens in the chorus.
A muffled whisper precedes the fierce drive of the All Is Dying Now intro, intertwined with the saddened passages of a guitar solo, but the keyboard symphony brings a touch of thoughtfulness, occasionally exploding with new passages of the drive and combining it together in a medium tempo.
Dancing in a fascinating gloomy drive, the Alone, Unheard, Dethroned main motive of a sparkling musical fairy appears in a bridge, intertwining with vocal phrases in the refrain in a fascinating lace of musical extravaganza.
Beginning with a fascinating symphony of acoustic ballad Dynamis Energeia then raises the romantic sacrament to the transcendental heights of admiration, preserving the enchanting melodic instrumental romance, but giving it more and more new bright shades. Reach Through Distance preserves the atmosphere of fascinating romance, starting with an intriguing plexus of screaming and growling in vocal phrases, then alternating the slow rhythm of the couplets with the midtempo retreats in inspired bridges and choruses.
The ballad sound is preserved in the final compositions of the album, starting with the fascinating melodism of the This Hell Of Mine, in which despair and doubts revolt in vocal phrases, but the music envelops with charming hope. Then the Serenity completes the album, weaving inspiration from instrumental passages with calm reflections of vocal phrases, exalting confidence and peace above the petty vanity.