April 11, 2017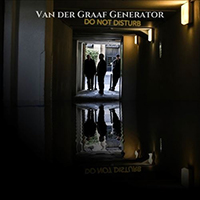 Undoubtedly, there are urgent, important, significant events - then the sign Van der Graaf Generator - Do Not Disturb hangs on the door! Do not dare to disturb!
A complex, mysterious Aloft story, broken, volatile and unexpected sides opens up more and more new images, combining them in an enchanting and unforgettable sound canvas.
Sirens, complex, intricate phrases are variably intriguing in the Alfa Berlina beginning. Then the intricate, thoughtful phrases confess the surrounding characteristics, turning into vocal phrases of a pleasant, exciting melody that combines guitar thoughts with keyboards streams. Thoughtful reflections, covering the far exposions of consciousness, are captured by unusual, so charming and difficult in perception Room 1210 melodies. Then the story is replaced by a playful motive, captivating the vastness of incredible dreams.
Playfully dancing, playfully joins Forever Falling to this album, fascinatingly and bewitchingly creating such an amazing musical image.
Mysterious, unpredictable instrumental saga Shikata Ga Nai motives attracts with the fog of unexpected discoveries, creating twilight of illusory expectations and unpredictable veritable inventions.
A complex, sparkling dance of Shana tambourines, around a fire of unseen fires and imaginary sparks creates such an amazing in its sparkling flicker sound image of the (Oh No I Must Have Said) Yes. It is so difficult, unexpected, unexpected and ambiguous - that everyone will take in different ways! So - everyone should listen to that and evaluate - just for myself alone! Romantic and lyrical Brought to Book ballad envelops with the pensive dusk of key passages, the fog of mysterious vocals, confessing in the past losses.
Almost the Words continues romantic eppey, overshadowing her sadness and sorrowful vocals. But sadness in its gloomy disguise of a disembodied ghost is sometimes so beautiful, that noone can not take his eyes off and can not leave the embracing sad bliss.
A fascinating twilight envelops the fog of key melodies, slowly and thoroughly enveloping with the Go anthem. Oh, the album have ended - well, I'll listen to it again...and again...and again!