December 19, 2019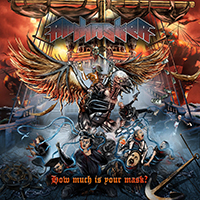 The appeals of dictators and the echoes of the crowd begin the introduction, then the World On Skulls Holding composition fully embodies the expected manifestations of musical passages from the Anmasker - How Much Is Your Mask? album in the spirit of old school trash metal. This can be heard both in fast-moving guitar passages and in the work of the vocalist.
The mid-tempo march sets the sound of the Look Under Your Feet! introduction, then the vocal cry calls for the transformation of the music rushing in the stream of rapid drive, the whirlwinds of the deadly dance approaching the mid-tempo fragments. The harsh power of a boiling rage rolls in waves of viscous drive, then complementing and diluting Be Silent And Listen musical cocktail with shades of vocal phrases that add a certain sharpness and sensuality to this potion.
For a long, thoughtful and extended the Trench Mud introduction sets the intrigue, but then the vocal phrases appeal to drive, but the music returns to mid-tempo marching pulsation. The introduction prepares the basis for the development of the Effort To Get Out main motive, then varied by guitar passages and emotional cries of the vocal part. Thoughts of a guitar solo in the introduction set the atmosphere of painful intimidation, but then the rhythmic structure varies the sound of the Patients Behind composition, setting very artistic variations of tempo and melody. The lyrics of the title track of the album How Much Is Your Mask? fully allows people living in the 20th century to feel the importance of manifesting their own essence, without hiding their faces and not hiding in the crowd trying to "be like everyone else." The final composition of the album creates a foretaste of an early denouement of the overwhelming irritation, embodied in statement That's Enough! again and again.