December 06, 2020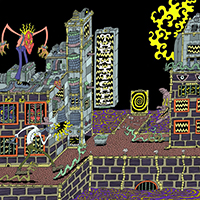 Softly, painfully and thoughtfully, the Cowboy song is starting the Wytches - Three Mile Ditch album and sets its mood by combining artistry and doubt. Bass combinations and pulsating echoes of technogenic impulses the Three Mile Ditch sets the unity of genres in an experimental musical image, crowning it with the union of vocal doubts with echoes of the blues. The romantic pensiveness of the sad ballad creates a direction for the Midnight Ride vocals reflections.
The progressive fracture of the rhythmic essence of the Fly Inside composition outlines its mystery. The A Love You.ll Never Know again returns to romantic relaxation and envelops the notes of the lounge. But thoughtfulness whips up peaceful Meat Chuck reflections, complementing the musical narration with oriental motifs and vague symphonies in the background. The vocals hardens to a nervous harsh.
Remembering the long forgotten and constantly emerging melodies the Everyone.s Friend aggravates their sound in the sad blues. The romantic sadness of the beginning creates a very peculiar mood, then forcing the rhythm of the White Cliffs narrative. In the Silver Trees vocal part, the participation of female vocals should be noted. The You Looked Happy To Me begins with vocals, bringing country-style to the album's stylistic framework.