December 30, 2018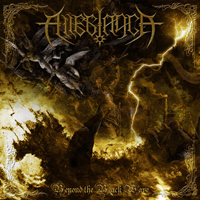 A soft acoustic guitar fingering complemented with gloomy mystical sounds in the background complements the muffled whisper of vocals, creating a mysterious haze of The Vow Allegiance (FRA) - Beyond The Black Wave album's intro.
An ominous symphony sweeps up a wave of dark drive, enveloped in the whims of mysterious melodies, combined around vocal phrases in a rapid flow of The Fall Of Black Heroes main motives, developing melodic tones in instrumental bridges. Then the music, while maintaining the atmosphere of melody, complements the sound with a furious drive, then returning to the final part of the symphony.
The subdued thinking of a warlock precedes the I Wrath I Death introduction, showing the full fusion of mysterious keyboards passages with energetic guitar riffs, combining in a wondrous epic narrative. In the middle of the composition, the warlock briefly returns to the reflections, but the music again rises in a swift drive.
The Entity Behind The Wall Of Flames intro lures black magic, developing the main motive. The motifs inherent in the black metal style pulsate in the couplet, vocals echo in the screaming phrases that summarizes with brief growling inserts. In the bridge in front of the chorus, the epiphany of epic symphony rises, rising vividly in a solemn hymn from the gloomy non-existence in the chorus, supplementing the sublime reflections of clean vocals. The majestic In Memory Of My Essence march offers pleas and spells to higher powers, heralding praise and reverence for its essence, inspiring the development and transformation of it in higher spheres. In the final part of the composition, clean vocals speech comes to the forefront of the musical image, concluding with a majestic guitar solo.
The noise of the crowd, conversations and communication like the wing of a black dragon and its fiery breath that caused a cry of horror sweep away in a stream of drive interlaced with sparkling melodies. After fierce screaming in the Shadows From The Pyre verse, the vocals in the bridge are transformed with thoughtful phrases of clean style. The composition continues the instrumental bridge, anticipating the next verse, followed by the inspirational speeches of clean vocals, ending in a crackling fire.
The gloomy symphony of the Sorceress Queen introduction precedes the fierce anger of the vocal part of the verse, shrouded in a dark gloom of dark symphony, the tunnel of impenetrable darkness around the vocal part. Between the couplets, the vocals descend into the abyss with deep growling, then weaving screaming and growling together in a vocal part.
The wondrous motifs of the organ create a fascinating haze of The Phantom Coach intro, then weaving an obscure symphonic background with the fierce anger of guitar riffs and outrage of vocal phrases, summing up the final composition of the album. But the song is not easy - in the composition structure multiple changes that reflect - ghosts, phantoms and other undead and mystical creatures need a very skilled and versatile trainer.