October 07, 2020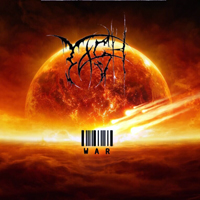 The intriguing introduction continues with an angry drive, then building the essence of the God of the Bloody Tongue musical composition on the dispute between the screaming and growling of the vocal part. The Cursed by the Dark God track continues the Tash - War album with an angry and unbridled race of unstoppable musical thriller. But the introduction of vocals is preceded by musical reflections, then again returning to impetuous unrestrainedness.
The Betrayal of the Deep Ones song focuses more on the hard and rhythmic pulsations of musical power and drive, keeping the tempo close to the mid-tempo narration and bringing the growling to the forefront of the vocals at first. The Third Great War sublime symphony of the melodic musical introduction is followed by an unbridled musical thriller, the appeals of deep growling vocals call for the combination of these entities in a single musical narrative. The Hand of Hell continues the sound of the previous composition, crowning the fury of the guitar drive with the sparkling chime of a keyboard symphony.
Mid-tempo Bred for War rolls seems to rise up with the harsh essence of a battle march, but sometimes show romantic tenderness before the introduction of vocals that combine screaming and growling. Beginning with a majestic piano solo, the Slave Nation track then is complementing that majesty with a guitar solo and combining it into a musical saga. After a frantic drum roll, the Total Brutality explodes with a deadly sound of a furious musical thriller. The Gray Horizon 2020 closes the album with inspirational melodic influences.