March 06, 2019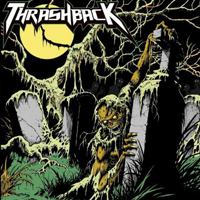 The soft waves of acoustic romance The Beginning of the End (Intro) begins the Thrashback - Sinister Force album with trembling anticipation. But Weapons of Mass Destruction already carries away thoughts and presentiments with an unrestrained stream of uncontrollable drive. Beginning with viscous thoughtful reflections, then Stand Up and Fight is transformed by a wave of uncontrollable drive, preserving, however, the shades and trends of the main motive. Furious flow drive knocks down, carries in an impetuous musical stream. The bass guitar solo anticipates the introduction of vocals, which somewhat slows down the tempo in the verse, but preceding the chorus, emphasizing the Chemical Death title, bridge forces swift passages.
The accompaniment, twisted around the axis of the main motive, envelops the No Way to Come Back vocal part with a tunnel of gloomy significance, the vocals introduce influences of playfulness and mysteriousness. In the instrumental part, the guitar solo introduces a whirlwind of violent swiftness.
Waves of darkness cover the despair of vocal phrases, raising terrible prophecies, in the Exterminate chorus the choir of adepts helps the pastor.
The title track Sinister Force begins with a grim broadcasting of a creepy demon shrouded in background winds of distant winds, then a wave of furious drive of legendary heroes draws swords for the sake of fighting evil and undead.
Instrumental passages captivate with fascinating melody, vocal after the first verses again and again accentuates the Resurrected to Devour title.
Furious Attack of the Undead is carrying away with the swift whirlwind of a deadly drive, circling in a dance of rusty blades and demonic spells. Then the gloomy haze of sad reflections of the mid-tempo composition The Final Hour brings the album to completion, visually and painfully enveloping you with saddened impressions. The wind completes the composition and precedes the trend of the Nothingness (Outro) symphonic sadness, the final album of the mystery of enchanting romanticism.