November 30, 2022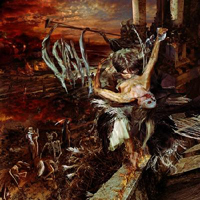 The intriguing introduction anticipates the vocal argument of the Prelude To The Oracle composition, rolling out the musical canvas of the Sigh - Scenes From Hell album, anticipating the incredibly variable choice of musical styles, continuing with a demonic explosion of gloomy omens in the musical whirlwind of the L'art De Mourir song, weaving demonic detachment with musical motifs of medieval festivities, fairs and festivals.
Further, bringing the echoes of the variety show to the musical sound of The Soul Grave composition impressively combines them with extreme vocals, then combining a sad vocals narrative with the howl of sirens and despair of The Red Funeral vocals narrative and musical anger.
The Summer Funeral funeral procession envelops with an atmosphere of twilight despair, bringing to the sound the reflections of a sad symphony, rapidly accelerating in the musical impatience and assertiveness of the Musica In Tempora Belli composition while retaining notes and shades of symphonic charm.
Vocals anger sets the mood of the Vanitas musical pressure, then directing the music to follow the path of the vocals dispute, anticipating its artistic variations in the Scenes From Hell title track that sums up the final line of the album.