March 05, 2021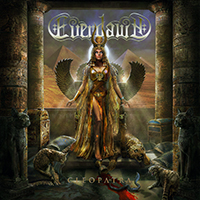 Symphonic intro creates an atmosphere of the majestic narrative of the Everdawn - Cleopatra conceptual saga, in which first the composition of the Ghost Shadow Requiem composition introduces some extension of mystical sacraments, with the entry of vocals at first retreating with musical passages. The Stranded in Bangalore drives a drum fraction of a notch of a gloomy drive, then combined in the fascinating waltz with female vocals, pre-racing the development of the mod-tempo anthem. The Cleopatra title track begins with a musical sacrament, then withdrawing the charm of the operatic vocal of the singing lady to the foreground of the musical image. The guitar solo of the instrumental part assumes the greatness of melodic triumph, concluded by notcing the influence of the Egyptian folklore.
Vocal narrative remains at the Your Majesty Sadness epic anthem forefront, alternating male and female vocals in the vocal part, combining them in a duet in bridges and choruses. The symphonic greatness of the Infinity Divine song is over the clouds of everyday gray, then the Pariah's Revenge accelerates the tempo, the vocal experiences on the top of the musical stream. The Lucid Dream after the intriguing mystery of the entry flies in a rapid zeal on the sparkle wings of the musical drive.
The Heart of a Lion song's symphonic charm of music passages is marking vocal reflections by sparkling ribbons. The vocal part combines the features and charm of male and female vocals. The fierce musical component and bringing progressive musical solutions to its essence the Toldeo 712 A.D. instrumental track recalls historical facts and wrapped the listener with the covers of ancient anthem. Guitar solo of the Rider of the Storm intro enhanced romantic experiences and sets the path of development of the main motive that is tenting on pulsating rhythmic splashes. The Last Eden track completes the album by the embodiment of a comprehensive symphonic sound.