October 26, 2021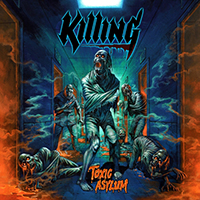 The dusky mystery and obscure mystery recedes before the vocal anger and rage that opens the musical narrative of the Killing (DNK) - Toxic Asylum (EP) release with the furious frenzy of the Demonized unrestrained musical thriller. But the angry drive and furious musical unrestraint also reveal a vivid allure of melodic nuance and artistic variation in musical stylistics.
The vocal part comes to the forefront of the musical image of the Wolves song, marching in a rhythmic march together with the musical variations, uniting in a single musical stream of mid-tempo pressure.
The furious guitar solo combined with the frenetic vocal anger come together in a deadly whirlwind of frenetic drive on the Hell Sent track, culminating in the rhythmic fury of a deadly dance.
The narrative of the elder foreshadowing the development of the musical essence of the Fire Walk With Me song creates an intriguing introduction, culminating in a bright and insistent musical sound.
The intro guitar solo points the way for the development of the leitmotif, but then the vocal frenzy explodes with a flash of sparkling fury, again and again complementing and transforming the sound of the Eternal Enslavement track.
Completing the musical narrative of the release, the Bloodfeast and Tyranny (Demo) composition begins with the twilight solemnity of an epic guitar solo, but then the vocal fury calls out to the swiftness of the musical drive.