April 02, 2017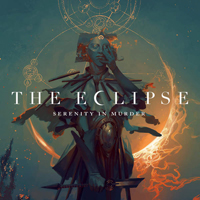 So attractive and charming sounds sweet to the heart, soul and mind Serenity in Murder - The Eclipse !
A grand, solemn Earthrise introduction illuminates the beginning of the album with the rays of the rising sun, mixing oriental motifs and European classics.
A Torch For Avengers continues this solemn, vivid narrative, supplementing it with a fierce explosion of a musical extravaganza, creating the power and fierceness of sublime and inspired music.
Sublime, sacramental Isle Of The Dead promotes keyboard passages to the foreground, then complements them with vocal and guitar refinements, but leaving the keyboard parts at the head, giving them the features of the main motive.
The symphonic beginning of The Revelation, with the mysterious chants of the lady turns into the combination of classical motifs with furious guitar drive, united by a furious and outraged growling vocals.
A wonderful keyboards passage begins Dancing Flames , turning into the heroic, solemn narration, captivating in the stream of imaginary dreams, leaving no one indifferent to their bright delights. So grand, magnificent, unforgettable piano solo beneath the sound of rain completes the composition.
Magnificent in its monumentality, but short and restrained with the noise of the waves and the surf Genesis creates the intro for The Sea Is beautiful, inspirational composition is juggling with the romantic ballad and so furious drive of quick composition, combining it with classical motifs, captivating the mind after its magnificent melodies.
Hybrid Evolution melody carries away from the first notes, demanding to follow it without stopping. It changes shape, re-dressing and dropping clothes, like superfluous lumps of unnecessary covers.
Unrestrained drive, combining with the sublime and pretentious motifs of the classics are combined in Phalaris. Wonderful guitar solos and keyboards sweep over the main musical image, creating a charming charm of imaginary inspiration.
Exciting Dreamfall detachment develops in the ragged rhythm, slowly and painstakingly develops further to musical image. Pretty composition simultaneously charming, romantic and solemnly marching.
Oriental, Japanese folklore motifs and melodies are combined with modern instrumental performance and violent growling at Land Of The Rising Sun, creating so charming and unforgettable musical dream.
Title track The Eclipse completes the album, summing up all the other songs. Instrumental composition creates a classical atmosphere, saturated with Japanese folk melodies.