March 14, 2022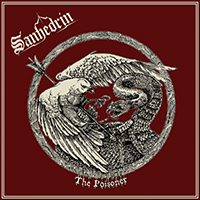 Dusky and harsh preparation with epic twilight of musical mystery of the introduction sings in enchanting dance warlike motives of battle march with epic tunes of marching soldiers, enthusiastic support of the Meditation (All My Gods Are Gone) bard saga. In the further development of the musical essence of the Sanhedrin (USA) - The Poisoner album the variation and thoughtful artistry of the musical charm of the enchanting echoes of ancient legends and medieval tales with mystical tunes of elven storyteller and invocations of druidic rituals, woven into a progressive musical lace preceding the enchanting guitar solo of the instrumental part. Transforming the thrilling and hit intro guitar riff into the main motif, the Wind On The Storm song crowns these shimmering musical charms of the guitar passages with the inspiration of the vocal narration.
Rolling in waves of dense and persistent drive of guitar riffs, the Blood From A Stone composition creates a powerful and energetic sound of the verse, raising the banner of solemn reflections with vocal meditations in the chorus. The guitar solo of the instrumental section captivates with artistic melody and vividly inspired musical construction. The Poisoner title track captivates with the romantic ringing of the guitar strings and the rise of emotional vocal sensuality in the sound of a mesmerizing ballad.
After a short preparation, The Getaway track soars in a whirlwind of furious musical thriller, enveloping the rebellious vocal proclamations with appropriate harsh musical support with sparks of melodic guitar notes. The For The Wicked song brings to the sound of the album direct echoes of southern rock, supporting these musical tones with dense harshness and power of sonorous and meaningful musical drive.
Weaving a fascinating lace of the main motif in the introduction, the Saints And Sinners composition takes him on a journey to unknown goals, facing challenges and adventures on a long and impressive musical journey. After an intriguing and epic introduction, the In From The Outside song closes the book of musical tale of the album with its most varied and diverse musical essence, maintaining melodic echoes of the leitmotif sound throughout with the charm of the guitar solo instrumental part.