December 14, 2020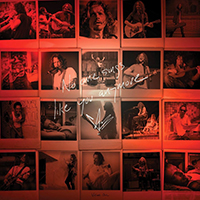 The music wraps around the vocals with a leisurely sound, complementing the main vocals in the chorus with a background chorus. In the musical essence of the Get It While You Can song the keyboard notes create the background. The Jump Into The Fire composition continues the musical story of the Chris Сornell - No One Sings Like You Anymore album with rhythmic clapping in which the echoes of rock'n'roll spirit can be noticed.
The dreamy chime of the acoustic guitar strings complements the inspired sound of the Sad Sad City vocals reverie. In the Patience romantic ballad, the vocal reflections are complemented by the soft chime of the acoustic guitar.
The reinterpretation of the unforgettable and legendary Nothing Compares To You (Sinead O'Connor cover) song, supplemented by the vocal transformation - instead of female vocals we hear male vocals, creates a very impressive sound. The Watching The Wheels track brings the atmosphere of country style to the sound of the album. The thoughtful and unhurried sound of the You Don.t Know Nothing About Love ballad charms and inspires you to turn to your memories.
The rhythmic heartbeat of the Showdown musical organism is complemented by the questioning vocal experience. The To Be Treated Rite romantic ballad brings back the charm of acoustic guitar chime, continuing the sensual romance supplemented by a keyboard symphony in the sound of the Stay With Me Baby final song.