September 09, 2018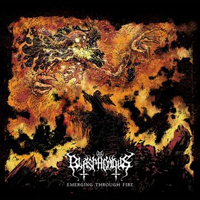 Swiftly and lightly The Unholy Light whips up a stream of uncontrollable drive, giving a melodic kink to a note of restraint before the vocal, but returning again to the style of the intro. A wave of mystical revelations completes the composition, enveloped in enchanting melody. But in the instrumental part, impetuosity returns in pursuit of a high-speed guitar solo. In the final part of the vocal brings tribute to the influence of legendary tales.
The title track continues the Blasphemous - Emerging Through Fire album, starting with the chime and the chime of the keys. But then the guitars will whip up a wave of powerful drive, rolling in a mid-tempo sweeping through the space shrouded in fabulous hues.
The gloomy trends of the main motive soars in the dark dance, encircling the vocal narration in uninterrupted fetters, giving the middle tempo composition Descend into Nothingness mystical mysteriousness.
The pulsating rhythm carries off Salvation Denied after vocal reflections, enveloping gloom spells with a cover of dark magic and evil spells. Music in a dense mid-tempo drive pursues a vocal part.
The Death Realm introduction slowly envelops the listener with gloomy veils of dark forebodings, complementing them with mysterious melodies and weaving disturbing expectations into a majestic saga. Then the vocals bring some clarity to the mysterious musical streams, introducing embittered pressure and rage. But the final musical part again envelops the perception of obscure haze. As if continuing the previous composition Mouth of Lies throws away the sacraments of introduction, dispelling a haze of mysteriousness, tightly hammering the phrases of the vocal part. In bridges, the majestic melody envelops the compositional structure, complementing the song with fabulous trends.
Completing the majestic melody, preserving the fragments of the marvelous melodies Possessed by Madness is carried away in an unrestrained flow of fierce drive, discarding the restraining chains and hindrances blocking the way.
Romantic intro begins the final album's track Soul of Ten Thousand Sorrows, then elevating its magnificent motifs over the rest of the musical hypostases, in which the rapid drive and powerful phrases of severe growling prevails.